Slim Thug Doesn't Believe Ciara and Russell Wilson's Romance Is 'Real'
Not sure why Slim Thug  care what Ciara and Russell have going on in their MARRIAGE, when he is opting to be single so he can date as many women as he wants. I could see if he was a concerned family member of one of them? Sometimes people just need to mind their own business, like in this scenario.
Wasn't he the one who said the disrespectful ass comment about how he should have gotten Beyonce pregnant when he had the chance? Yeah, maybe he should have, but as know, most rappers aren't smart enough to think about their future as they are too busy seeing who they can get to suck their dicks and fuck right now!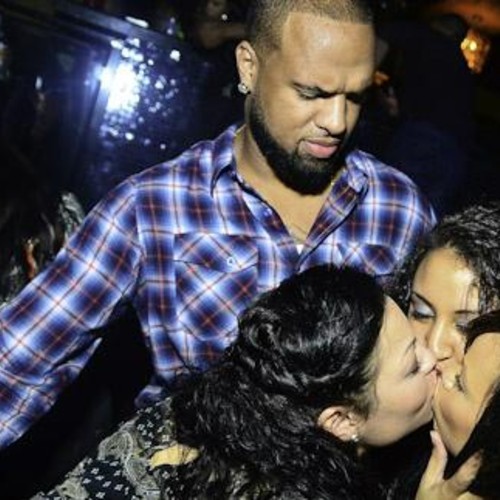 And let's not forget about his IRS debt that he got slapped with for a whopping $310K Tax Lein. He needs to just stay focused on building up Texas homes and staying out of other peoples business.
(Yahoo) Houston legend Slim Thug dropped by the studio of local station 97.9 on Thursday morning to share a very interesting conspiracy theory: Ciara and Russell Wilson's relationship is a sham. "Do a woman who used to talk to Future really want a Russell Wilson?" Thug asks. "I don't believe it I think it's all for financial stability."
For those who may not remember, Ciara and Future began dating back in 2013. Their passionate romance snowballed as they worked on musical projects together, got engaged, and had their adorable son Baby Future in 2014. Wedding planning was underway when cheating rumors soured the romance and they called off the engagement.
Soon after, Ciara and Seattle Seahawks quarterback Russell Wilson paired up. They've since gotten married and had a baby of their own, but Slim Thug isn't buying it.
"No hate, I bought his shoes the other day…I'm just saying I have no personal issue with him, or her, God Bless them," he clarified before further explaining why he doesn't think their relationship is legit.
"He's just a corny dude, ain't nothing wrong with it," Thug says. "I ain't gonna say corny cause that's hatin' but he's just like a square…I don't believe a girl coming from a street dude could even adapt to that."
First of all Slim Thug, most of you 'Rappers' are NO good for anyone, not even themselves. Like you for prime example, why aren't you married?
Ciara and Future are still not on the best terms. After parting ways, the two went back and forth with libel lawsuits and a custody case over baby Future. They finally settled things in January, but there likely remain hard feelings, as Future continues to pull petty moves like dropping projects on Ciara and Wilson's anniversary. Still, Thug thinks Ciara couldn't possibly go from Future to a straight-laced dude like Wilson.
"I ain't gonna say shes a gold digger, because she got her own, but at the end of the day I don't believe it's real," Thug says.
Now I'm all for celebrity speculation, but this one seems like a stretch. Sometimes after dating someone who sucks, you just want to be with a chill, nice person who is the total opposite of your ex. It happens, so, agree to disagree Slim.
More from Complex