Nicki Minaj Says She Is Pissed With Travis Scott Over His No. 1 Billboard Position
Nicki Minaj sat with Ellen and explained how she really felt about losing the No. 1 spot on the Billboard 200 to Travis Scott. When someone says how they feel they're not always upset or angry," she told Ellen after she asked about her reaction to Queen losing the No. 1 Billboard 200 spot.
"Well what were you feeling?" Ellen asked to clarify. "I felt like I wanted to punch him in his f*cking face," Nicki answered. She went on to reiterate some of her previous complaints about Travis' merch sales and the 12 hours she lost in streaming time.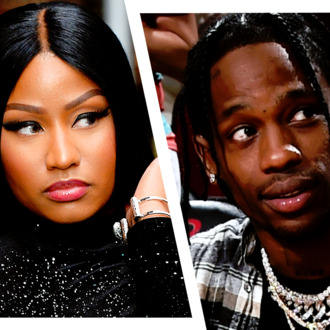 "I don't like being bullied and I don't like being taken advantage of," she says. "And sometimes people use scare tactics against you, because they know, especially as a black woman, people will call you angry or bitter, and so now it's almost like we're not allowed to defend ourselves or stand up for ourselves."