Microsoft Honors The Worlds Greatest Teacher In Ghana With Computers For Students
It's not too often you find a man that is a teacher who is will to teach! Richard Appiah Akoto goes above the above and beyond with passion when working with his students. As he prepares them for the life as an adult, he gives them hope in advance on what may come to be, should they get a job, they will know the basic.
Each One Teach One, Young and Older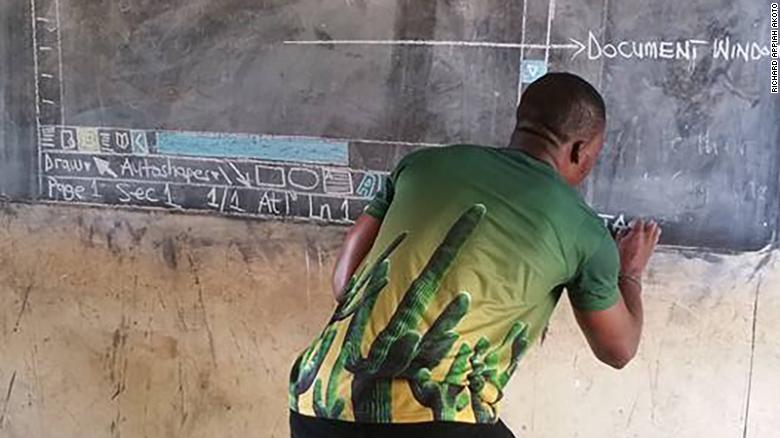 (Tech Crunch) Teaching kids how to use a computer is hard enough already, since they're kids, but just try doing it without any computers. That was the task undertaken by Richard Appiah Akoto in Ghana, and his innovative (and labor-intensive) solution was to draw the computer or application on the blackboard in great detail. His hard work went viral and now Microsoft has stepped in to help out.
Akoto teaches at Betenase Municipal Assembly Junior High in the small town of Sekyedomase. He had posted pictures of his magnum opus, a stunning rendition of a complete Microsoft  Word window, to Facebook. "I love ma students so have to do what will make them understand wat am teaching," he wrote. He looks harried in the last image of the sequence.
The post blew up (9.3K reactions at this point), and Microsoft, which has for years been rather quietly promoting early access to computing and engineering education, took notice. It happened to be just before the company's Education Exchange in Singapore, and they flew him out.
It was Akoto's first time outside of Ghana, and at the conference, a gathering of education leaders from around the world, he described his all-too-common dilemma: The only computers available — one belonging to the school and Akoto's personal laptop — were broken.
"I wanted to teach them how to launch Microsoft Word. But I had no computer to show them," he said in an interview with Microsoft at the event. "I had to do my best. So, I decided to draw what the screen looks like on the blackboard with chalk."
"I have been doing this every time the lesson I'm teaching demands it," he continued. "I've drawn monitors, system units, keyboards, a mouse, a formatting toolbar, a drawing toolbar, and so on. The students were okay with that. They are used to me doing everything on the board for them."
Pursuing such a difficult method instead of giving up under such circumstances is more than a little admirable, and the kids are certainly better off for having a teacher dedicated to his class and subject. A little computer literacy can make a big difference.
"They have some knowledge about computers, but they don't know how to actually operate one," Akoto said. So Microsoft has offered to provide "device and software support" for the school, and Akoto will get a chance to go through Microsoft's educator certification program (which has other benefits). When I asked for specifics, a Microsoft spokesperson added "Microsoft is committed to providing a full computer lab with initial support and training to the school and is currently in discussions with Ministry of Education in Ghana on the most effective way to deliver this." How nice!
Obviously if this school is having this issue, countless more are as well, and could use similar support. And as Akoto himself eloquently pointed out to NPRwhen his post first went viral, "They are lacking more than just equipment."
But at least in this case there are a couple of hundred students who will be getting an opportunity they didn't have before. That's a start.
UPDATE
(QZ) The spectacle of Akoto explaining how computers work—without computers, prompted a slew of promises to donate computers to the school. A benefactor at UK's University of Leeds donated a brand new laptop and this was followed days later by another donation of five desktop computers for the school and the gift of a laptop for Akoto's personal use by NIIT, a computer training school headquartered in Accra, the capital of Ghana.
Many have called for Akoto to be given Ghana's 'Best National Teacher', an annual award for teachers that among other things comes with a prize of three-bedroom house at a location of choice.
While Akoto has been described as an inspiration for teachers in Africa, what he does is symptomatic of an under-resourced dysfunctional public school system. Across the continent, many poor parents are forced to choose private schools over free public primary schools due to this lack of resources in government-owned schools.