Meek Mill Plans To Make His New Foundation One Of The World's Biggest Foundations
When a man can take his own pain and turn it into a fulfilled purpose for others, then the mission as a human race has been completed and may the universe be the limit . I couldn't be more proud of Meek Mill and how he continues to be a beckon, even when he doesn't' want to be. I only hope that this new generation can fully embrace him; not only as a rapper but as a man with a purpose, a vision and a mission which is to help others. Keep Pushing Meek Mill.
(BillBoard) Rapper Meek Mill is just steps away from debuting one of the largest criminal justice reform foundations on the planet. Meek was released from prison by judges in Pennsylvania in April after spending four months in jail following a violation probation on a 2008 drugs and guns conviction.
Once he became a free man again, Meek immediately focused his attention on criminal justice reform in the U.S., insisting his imprisonment was unjust and unnecessary, and he has teamed up with bosses at his Roc-Nation record label, founded by Jay-Z, and Philadelphia 76ers basketball team owner Michael Rubin, among others, to launch his new foundation.
"We're going to announce it real soon," he told Billboard. "Some big people are attaching themselves. It's going to be one of the biggest foundations for justice reform in the world."
The news comes days after Meek was honored with Billboard magazine's inaugural Impact Award for his criminal justice reform efforts.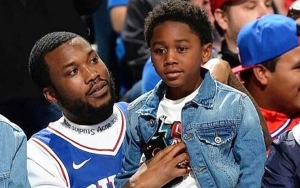 The proud star called the honor "a real landmark in my life".
Although he appreciates the acknowledgement, the star 31 year old is keeping his eye on the prize.
"Helping to change some of these probation laws that are keeping people like myself in prison, despite the fact that no new crimes were committed (is an important short term goal)," he expresses.
Meek was arrested for assault in St. Louis, Missouri in March, 2017 at a local airport following an altercation with an employee, who wanted to take a photo with the star. He was charged with a misdemeanor, which was later dropped, but the incident was considered a probation violation in Pennsylvania by Judge Genece Brinkley, who sentenced the Philadelphia native to serve two to four years behind bars.