Kim Kardashian 'Heartbroken' After Kanye's Meeting With Trump
Kim Kardashian's distraught after hearing Kanye talk about being mentally ill and never wanting a woman president at the White House. His wild speech left her 'heartbroken,' we've learned!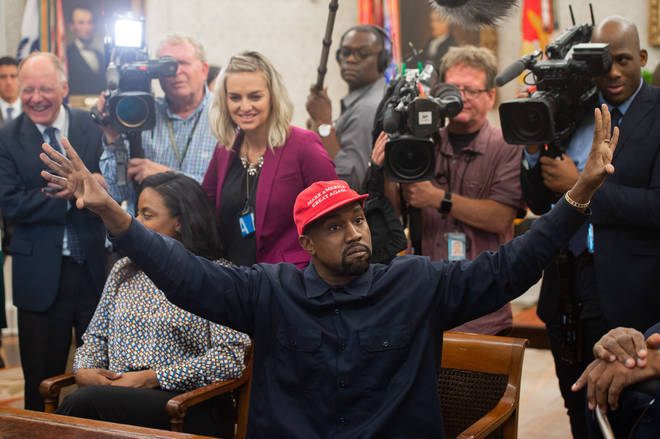 (Hollywood) Kim Kardashian is no longer the only person in her family to visit the White House, but she's not seeing that as a good thing. Kim, as a source close to the Kardashians told HollywoodLife EXCLUSIVELY, is "mortified and heartbroken" after husband Kanye West's televised meeting with President Donald Trump on October 11. Kanye's trip to the White House was supposed to be a private lunch with the president and his son-in-law slash advisor, Jared Kushner. Instead, it turned into a live conference in the Oval Office, in which he ranted for a full 10 minutes about everything from abolishing the 13th amendment, being diagnosed with bipolar disorder, and how there needs to be "male energy" in the White House.
Kim was apparently watching along at home with the rest of the nation, and she didn't like what she saw. "[Kanye's] intentions were good, but he's clearly being played by Trump, who was outright laughing at him at one point. It's just sad," the insider told us. "The problem is, there's no telling Kanye how to act, and there's no advising him to be calm or cool. He's going to launch into whatever he wants, and Kim has to be there to pick up the pieces afterwards."
Ain't that the truth. There's no real way to tell if Trump is actually playing Kanye, but Kim is at least right that he was amused by Kanye's rant. After Kanye finally stopped speaking (and yelling at reporters), Trump smiled and said, "well, that was quite something." It takes a lot to make Donald Trump think your speech is wild. The source pointed out that super momager Kris Jenner will try to do some damage control — it's her specialty — but it may not work this time. "Nobody sees how she's going to do that," they told us. "But everybody is just concerned about Kanye right now."