Joe Jackson Has Terminal Cancer, Family Flocking To Hospital Bedside
Reports have emerged that Joe Jackson has been hospitalized with terminal cancer, and new family drama is supposedly causing tension to run even higher.  Details inside.
89-year-old Joe Jackson, talent manager and patriarch of the Jackson Family, has reportedly been hospitalized with a terminal cancer diagnosis after battling various ailments for years.   TMZ reports that it is not known how long he has to live, but the Jackson family is currently flocking to his bedside to share in what could be his last days.  Doctors have reportedly told the family the cancer cannot be treated.
While the Jackson family has not yet put out a statement, the Daily Mail alleges the father Janet Jackson and the late Michael Jackson was diagnosed with stage 4 pancreatic cancer.
Now, reports state Joe's handlers, namely his manager Charles Coupet, allegedly barred senior family members from visiting him for four days, including wife Katherine, Janet and daughter Rebbie.  After an emergency family meeting, they were apparently allowed to see him Tuesday.
Joe's other daughter Joh'Vonnie Jackson – reportedly the product of an extra-marital affair – had also been barred from seeing Joe even though she lives near him in Vegas.  She posted the above picture this week at his home with Rebbie, but apparently discovered he was removed from his home when she and Rebbie returned to his home the next day.
Jermaine Jackson even went on the record about the bizarre family drama, saying all they want is to be with Joe during these last days.  Jermaine told Daily Mail:
"No one knew what was going on – we shouldn't have to beg, plead, and argue to see our own father, especially at a time like this,' he said. 'We have been hurting. We were not being told where he was and couldn't get the full picture. Even from the doctor. My mother was worried sick.'

Jermaine, 63, added 'He's very very frail, he doesn't have long. The family needs to be by his bedside – that's our only intention in his final days. 'It's what any family would want, but some people around him think they know better…and they don't.'
It's also being reported that the reason many family members were barred from seeing him was because of an audio recording Joe himself made containing  instructions.  The family – who heard part of the recording – is quite suspicious of where this audio came from, and it's causing even more drama.
DailyMail.com has learned that Joe himself had given verbal instructions – which exist on a phone recording – making clear he didn't want visitors or anyone from the family to see him or his medical records.

How that recording was obtained is not clear, but one source close to the camp said: 'The people around Joe Jackson are the people who have been there for him in his everyday life. They are acting in his interests and no one else's.

'The Jackson family doesn't have the capacity to deal with this on its own, so certain people are taking charge of the situation. 'It's delicate… and not as black and white as people are making out.

'The Jacksons are now in dialogue with the people looking after Joe, and they are being kept informed.' One family member said: 'If it's true there was verbal instructions from Joseph, we'd like to know how that instruction was obtained.'
As for why Joe would leave these type of instructions, and to whom he left them to, is currently a mystery.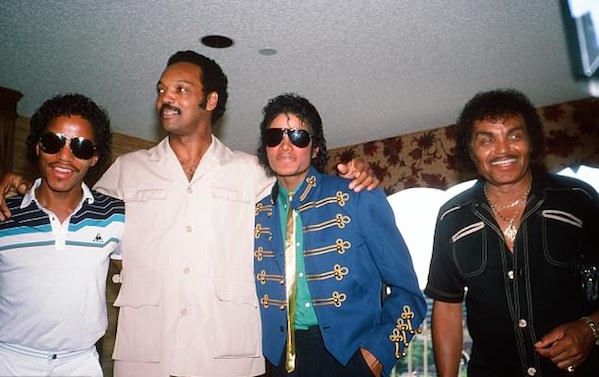 We can only pray for peace for the family during this time.