GM poised to close plants in Michigan, Ohio And Maryland
Trump told the people that their jobs were safe and more openings were coming. But today we hear the GM is closing and opening up plants in Mexico and China. Those five plants assemble and produce parts for several Chevrolet, Cadillac and Buick vehicles that GM said would be discontinued within the next two years. As many as 5,901 hourly and 804 salaried workers could lose their jobs if GM does not allocate a new product to the plants.
The Associated Press reported that GM will cut almost 15,000 hourly and salaried jobs in North America. News channel WFMJ, the NBC affiliate station in Lordstown reported that employees were told the plant will close in March.
GM to cut as many as 15,000 US, Canadian jobs, may close 5 plants
General Motors is poised to close factories in Michigan, Ohio, Maryland and Canada, kill off several passenger cars and slash 15 percent of its salaried workforce in a sweeping cost-cutting plan designed to boost its profits. The Detroit-based automaker said it would end production by the end of 2019 at its Lordstown Assembly plant in northeast Ohio; its Detroit-Hamtramck Assembly plant in southeast Michigan; its Oshawa Assembly plant in Ontario; its Baltimore Operations parts plant; and its Warren Transmission Operations plant in southeast Michigan.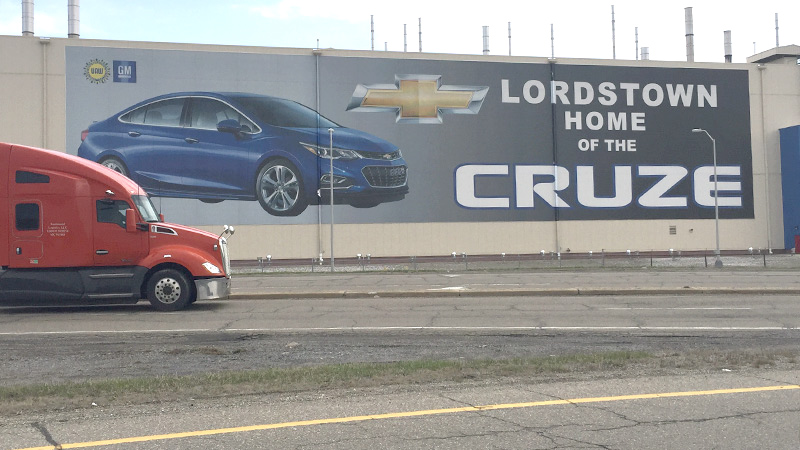 Assembly plants are job juggernauts. GM has about 1,500 employees at the Detroit plant, 1,600 at the Lordstown factory and 2,500 in Oshawa. The announcement comes ahead of next year's contract talks with the United Auto Workers union, which could potentially lead to decisions to devote vehicles to those facilities.
GM's biggest employee union, the United Auto Workers, vowed to fight the plan. But there's a serious chance that the plants close for good.
The company will also discontinue the Chevrolet Cruze, Volt and Impala cars in North America as Americans flock to larger vehicles in the form of crossovers, SUVs and pickups. CEO Mary Barra is seeking to reposition GM for a future defined by self-driving cars, ride-sharing networks and electric vehicles. The cuts will make GM "lean and agile" as the company aims to "lead in autonomous and lead in electric vehicles," Barra said.
Taken together, the moves will deliver more than $6 billion in additional annual cash flow by the end of 2020, GM said. That includes $4 billion in cost cuts and $1.5 billion in reduced capital expenditures. The UAW said it would "confront this decision by GM through every legal, contractual and collective bargaining avenue open to our membership."
It's a  "callous decision" to cut American operations about 10 years after the automaker first accepted federal bailout money, UAW GM official Terry Dittes said in a statement.
"GM's production decisions, in light of employee concessions during the economic downturn and a taxpayer bailout from bankruptcy, puts profits before the working families of this country whose personal sacrifices stood with GM during those dark days," Dittes said. "These decisions are a slap in the face to the memory and recall of that historical American made bailout."
GM said it would also close two additional plants outside of North America by the end of 2019. It will also continue with plans to close its plant in Gunsan, South Korea. The workforce reduction will affect 15 percent of the company's salaried and salaried contract workforce. It's not clear how many of those cuts will be voluntary and how many will take the form of layoffs. GM offered buyouts to 18,000 workers several weeks ago. The company said it would also have 25 percent fewer executives.