'Extra' Host A.J. Calloway Accused of Sexual Assault by TWO More Women
In June of last year, activist Sil Lai Abrams made her sexual assault allegations against A.J. in a story published by The Hollywood Reporter.
He quickly denied the allegations just days later, saying at the time:
"I was disappointed to read the false allegations about me in The Hollywood Reporter. As I have maintained from the beginning, these allegations are not true."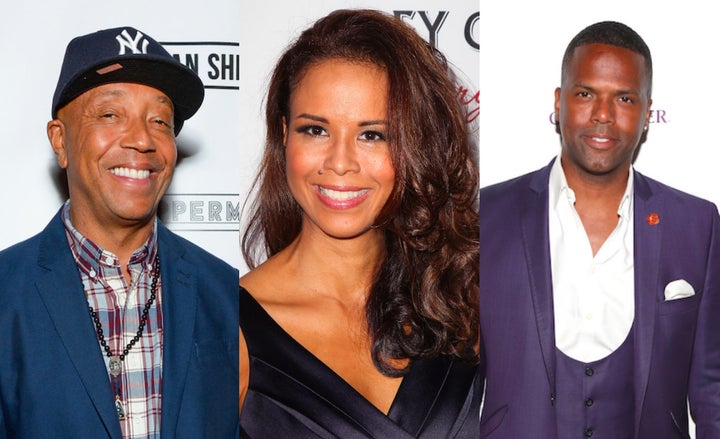 Now Daily Beast reports that not one, but TWO more women have accused him similar transgressions.
via The Daily Beast: An accuser who wished to remain anonymous told The Daily Beast that she brought her allegation of sexual assault against A.J. Calloway to the West Orange Police Department in New Jersey on December 24. She explained that she spoke with multiple officers on that date, and was told that a detective would be reaching out to interview her.
She explained that she first reached out to Abrams in December "because the first person I told didn't believe me, and I just happened to Google to see if anybody else had the same experience with the same person and her name popped up. So she was actually the first person I told him after the actual incident who actually believed me." She decided to go to the police "when I found out I wasn't the only one." The West Orange Police Department confirmed that a complaint of aggravated sexual assault was filed on December 24. Due to the nature of the allegations, they were unable to release any further details on the complaint.
Another woman who reached out to Sil Lai Abrams agreed to talk to The Daily Beast on the condition of anonymity. "I'm terrified about coming forward," Talia* explained. "I don't want it to affect my future, everything that I've worked hard for—and A.J. is someone that would try to do that."
Talia told The Daily Beast that she first became aware of Calloway through mutual friends; they proceeded to connect on social media. "He started messaging me in 2011," she began. "He wanted to take me out to dinner and I kept telling him no, I wouldn't entertain his advances." The Daily Beast reviewed screenshots of messages between Talia and Calloway that seem to confirm his romantic pursuit of her. Talia said that she was wary of their age gap—she was in her early twenties, and he was in his late thirties at the time. "After him asking me out repeatedly I agreed to go, because it got to a point where he started to get upset that I was actually not willing to go out with him. He was kind of like, do you know who I am?"
According to Talia, she and Calloway went out for dinner. She recalled her date drinking heavily, and proceeding to invite "a group of people to his home to party." Calloway was driving Talia that night. Once they arrived at his home with the group, she noticed that "he made everyone put their belongings on the kitchen table." The party proceeded downstairs to the entertainment room, which Talia said was complete with a home theater and a bar.
At around three in the morning, Talia remembered, Calloway walked the other guests out. When he came back, she recalled, "We started making out. And I knew I wasn't having sex—I knew adamantly I wasn't having sex because I won't have sex unless I'm in a committed relationship. So, you know, even though I'm kissing him, I'm thinking, this is the first date, we're just making out a little bit—because I've never even had sex on the first night with someone."
"Even though he's tall and he looks skinny, he has some weight to him," she explained. "He's heavy, you know, and he put his whole body weight on top of me. He kept trying to open my blouse. He really was going for my skirt, and I was literally pulling my skirt down because I was not going to allow him to go any further. And he thought it was a game or something because he kept laughing and giggling and I'm like, no, stop, stop. And the more I said stop the more he got aggressive, and that's when I started to realize, oh my God, this is serious. Like, he's really going to try and force me to have sex with him."
"I just remember trying to push him off of me, and this went on for 40 minutes straight," she continued. "Me attempting to push him off of me and fighting to keep him from taking my clothes off. Eventually he got tired, and I think it's because he was so intoxicated—it was wearing him out."
"And I just remember him pulling his penis out and he began stroking himself and he kept trying to put my hand on his penis and eventually he ejaculated on my hands."
Talia recalled wanting to "get out of there" but she didn't have a ride home. "After what happened he said, 'I'll take you home in the morning, I promise.' It was like he was in denial about what he just did to me. And I didn't know what else to do, so I just agreed. I remember that the whole night he wrapped his legs around me, so I couldn't get away. I just remember trying to move and position myself where I could breathe because my face was in his chest, his legs were wrapped around me, his arms were wrapped around me, and that's how he slept the whole night until morning."
Afterwards, Talia disconnected from the mutual friends she shared with Calloway, because she didn't "want to risk ever having to see him again."
"I never wanted to tell anyone because I didn't think people would believe me because he was a celebrity and I was just a regular girl," she said. "I thought that it's just one of those situations that happen and you just have to move forward with your life."
That was until she saw the article about Calloway featuring Sil Lai Abrams' testimony. "When I saw it and I read what happened to Miss Abrams, I knew right then and there she wasn't lying. I was 150 percent sure that she wasn't lying because what she described was almost identical to what happened to me."
Talia reached out to Abrams to "let her know that I believed her because he did it to me, too."
"I wanted her to know that even if billions of people don't believe you, there's someone who can vouch that what you said is really true."
Talia was shocked to learn that other women had reached out to Abrams with allegations against Calloway. "It was crazy because this whole time I thought my assault was an isolated incident because I had never heard anything about him that was negative after what he did to me."
"I think the hardest part for me is every time I turn the TV on, he was on the television. He's on Extra, he's doing the Soul Train Awards or something and it would make me feel like—not just disgusted, but low and defeated, like he gets to do whatever he wants and hurt people, and I have to live with the shame and pain of what he did to me."