But Rodman may not have been able help the three Americans that were at the time imprisoned by his self-proclaimed "friend for life," North Korean dictator Kim Jong-un but it sure looks like he will be the one who will help save the entire planet from mass destruction.
Rodman has never been shy to let people know that he had/has love for Trump and Kim Jong and now we are about to witness the power of the black man as he attempts to straighten things out between the two.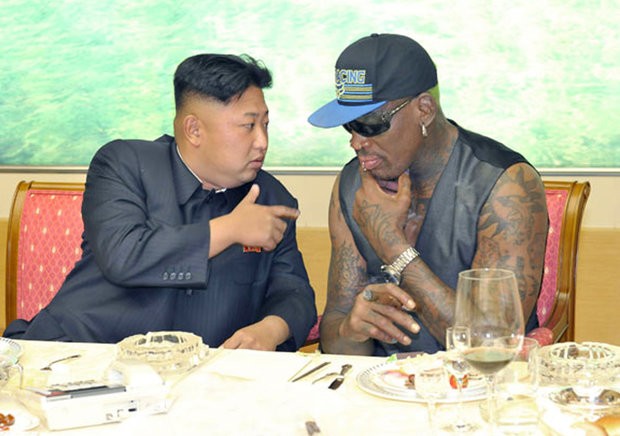 However, it is convenient when Trump knows which black friend to call when he ready to get something done, seeing as to how he can't seem to do anything right and anyone eyes except for those who are forced to appear on his side.
In case you weren't already aware, Rodman has become fast friends in recent years with the North Korean dictator over Un's love of the Michael Jordan-era Chicago Bulls, visiting the country a handful of times since 2013.
He most recently went in June last year, when PotCoin.com a website promoting its online currency "for the $100 billion global legal marijuana industry" sponsored the Hall of Famer's trip.
Rodman also created his own T-shirt suggesting that people who bought the tee would help the former "Celebrity Apprentice" contestant "save the world."
(Mercury News) all Rodman had to do was drop a few books off to Kim during his visit last year! Most importantly, Trump's "The Art of the Deal" found its way into Kim's hands, thanks to Rodman.
"I think he didn't realize who Donald Trump was at the time," said Rodman, apparently making us believe Kim never watched "The Apprentice" because his cable provider didn't carry NBC or something.
That book and others Rodman delivered apparently caused Kim's "change of heart" with Trump and Americans. So, about President Trump's planned meeting with the North Korean leader to discuss nuclear disarmament? That was Dennis' doing. At least partially, he told TMZ.
"I don't want to sit here and say 'I did this. I did that.' No, that's not my intention," Rodman told TMZ, after reminding them of his role. "My intention was to go there and try to people a sports ambassador to North Korea so people understand how people are in North Korea.
"I'm not the president, I'm just one person," said Rodman. "I'm just happy things are going well."
All modesty aside, the man dubbed "The Worm" for most of his 14-year NBA career just may earn himself a new nickname. The Dalai Lama of the Hardwood? Gandhi in Hightops? What we can all agree on, Rodman used his friendship with Trump as the springboard for his peacemaking efforts.
"The government over there asked me to talk to Donald Trump about what they want and how we can solve things," Rodman said. If Trump and Kim can truly diffuse their differences, this will go down as one of Rodman's most impressive feats ever. Well, almost as impressive as that time he married himself.