'Boonk Gang' Has A New Instagram Page And Now Wants To Be Known As 'John Gabbana'
Like many others, looking for change can sometimes start with their name and we can now add Boonk Gang to this list as fans are now being asked to call him John Gabbana and he has started a new Instagram page.  This kid stays on his PR Marketing Campaign.
No shame in his game! Social media star Boonk Gang's Instagram was shut down on July 2, only one day after he posted a series of nasty videos of himself engaging in foreplay and having sex. The rapper (whose real name is John Robert Hill Jr.) nearly broke the Internet with his graphic clips, showing him in various positions with a woman. Boonk immediately became a trending topic on Twitter, after over 5 million people viewed his salacious IG Stories.
The footage was still live on Boonk Gang's feed several hours after he posted it, and once people started catching wind of the ordeal and tweeting about it, it began to go viral.
GUESS WHOSE BACK
Real Page: @johngabbana
For the fans, be sure to pay attention to the page you start to follow on Instagram. Once John Gabbana mentioned on his SnapChat that he was starting a new page under his new name, someone else has started a page as well with some disturbing post
Other Page: @johngabbanaaa
2018 Publicity Stunts
1. HE GETS SHOT WHILE SITTING IN HIS VEHICLE
US rapper John Robert Hill, largely known by his alias — Boonk Gang, has shocked his subscribers by live streaming from his car after being shot twice in the upper leg. The stream featured him allegedly going to the hospital, showing his blood-stained jeans.
The rapper later posted pics of himself on a hospital bed and outdoors on a pair of crutches, saying he is doing well and that "n**gas get shot every day."
While many of Twitter and Instagram followers have expressed their support and extended their wishes for a speedy recovery, some of them suggested that Boonk Gang actually shot himself to get attention.
2. He gained notoriety as a social media star.
Boonk Gang, whose real name is John Robert Hill, created a Facebook page for his persona "Boonk Gang" in Jan. 2017. From there, a YouTube channel surfaced, eventually followed by an Instagram account that April. He went viral after posting his first Instagram video, which showed him stealing a box of chicken from Popeye's. It quickly racked up more than one million views, and Boonk became known for his social media posts which showed him committing similar crimes.
3. He's been victim of a death hoax. 
Like many celebrities, Boonk Gang became victim of a death hoax in July 2017, when the website ShockingVidz.com claimed he was found dead of a gunshot wound. This was later proven to be "fake news."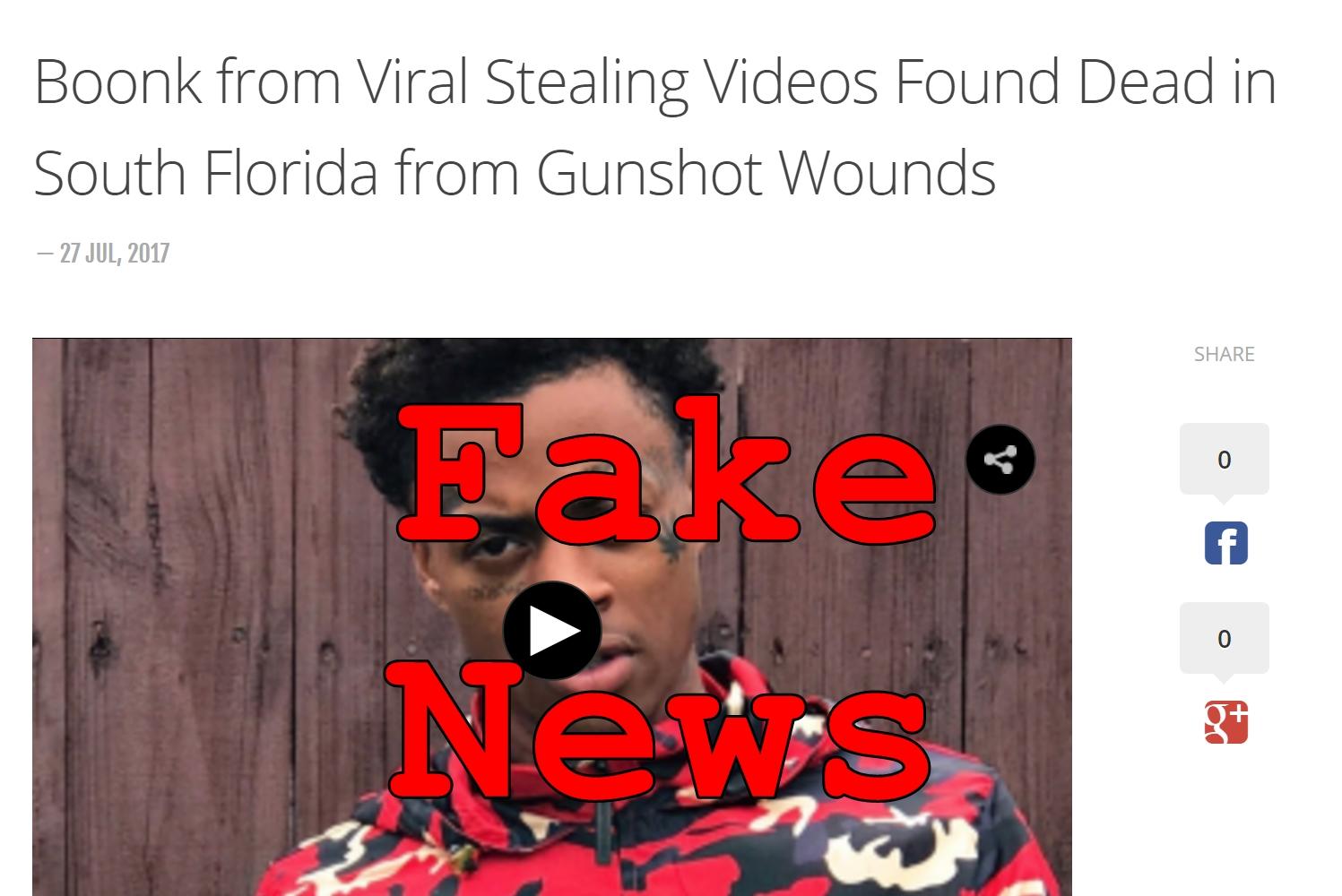 4. His stunts are for publicity to promote his rap career.
Boonk Gang is an aspiring rapper, who released his first single, "Muttin," in July 2017. He has admitted that all of his pranks and criminal stunts are ways to garner publicity to further his career.
5. He's been arrested several times.
Boonk Gang's first high-profile arrest was for stealing donuts and yelling expletives at a Dunkin Donuts in May 2017. He was charged for burglary and petty theft, and a judge sentenced him to probation and a court hearing in July.
He was also arrested in Sept. 2017 while out with friends, as well as in March 2018 for suspicion of possessing assault weapons and illegal narcotics. For the latter, he was released on bail.
6. He has his own video game. 
Boonk Gang released Boonk Gang: The Video Game in Sept. 2017. He is the star of the game, in which the player is tasked with picking up money while avoiding the cops.