Aaron Rodgers says LeBron James ignoring Donald Trump is 'absolutely beautiful'
Funny how we are seeing more white people stand up and stand by black people. I think I will actually live to see that day, when the government/president will have to publicly apologize to all African-Americans. And let's start with Aaron Rodgers, I applaud him for speaking his mind and sharing publicly, his opinion.
Most people may not know that these two guys are not strangers of each other so Rodgers coming out and praising James for how he is handling Trump is just another one of those times that he can appreciate Lebron James as a human being. Back in 2014 these two actually waged a bet against each other on who was going to be whose waterboy.
(Yahoo)If only the NFL would have taken LeBron James' approach with President Donald Trump, or at least listened to Green Bay Packers quarterback Aaron Rodgers speak about it.
We're heading into our third straight season of the national anthem issue overshadowing NFL games, and it's the league's fault. By enacting a policy that nobody liked (and eventually a policy that had to be paused as it discussed it with the NFLPA), when the controversy was dying down, the league incredibly gave new life to a story it was hoping went away. The NFL enacted an unnecessary policy at least partially in hopes of appeasing Trump, which makes it that much more baffling.
Trump went after James on Twitter recently, attacking James' intelligence, and Rodgers loved that James didn't acknowledge it. He thinks the NFL can learn from that.
Aaron Rodgers said he and other athletes support LeBron James
In an interview with NFL Media's Michael Silver, Rodgers said he supports James and that James' non-response to Trump was the right way to handle the situation. He called it "absolutely beautiful."
"At a time where he's putting on display his school, which is changing lives, there's no need," Rodgers told Silver. "Because you're just giving attention to that [tweet]; that's what they want. So just don't respond."
Rodgers said he didn't reply to the Trump tweet about James because "LeBron needs no help."
"He has stood on his own two feet for years, and he has done some incredible things, and he needs no support," Rodgers told NFL.com. "He knows he has the support of his contemporaries, in his own sport and in other sports, and he's gonna be fine.'"
Of course, the NFL seemingly can't ignore Trump when he attacks the league.
Rodgers: NFL players should ignore Trump's comments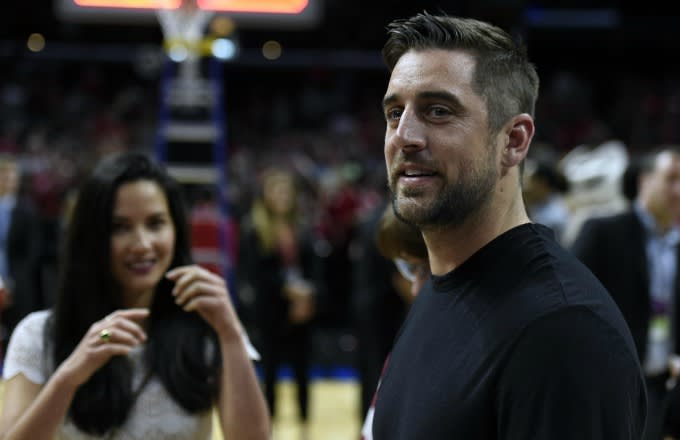 Trump told Cowboys owner Jerry Jones once, according to Jones' sworn deposition via the Wall Street Journal, that the national anthem issue was a "winning, strong issue for me." He told Jones the NFL can't win on the issue, because "this one lifts me."
It's hard for NFL players to not respond when Trump calls those who are trying to bring awareness to social issues such as racial inequality a "son of a bitch." But as Trump continues to attack the NFL — team owners were the only ones who couldn't see that coming — Rodgers said the best way to handle it is to not give Trump more publicity.
"I think that the more that we give credence to stuff like that, the more it's gonna live on," Rodgers told Silver. "I think if we can learn to ignore or not respond to stuff like that — if we can — it takes away the power of statements like that."
It won't be easy for NFL to ignore Trump
It won't be easy for the NFL and its players to ignore Trump. As we know, Trump is aware the entire issue "lifts" him, and he won't forget that. And the NFL is full of proud players who don't take kindly to being called a "son of a bitch."
But Rodgers makes some good points and it's easy to follow his logic. And had the NFL ignored Trump from the beginning, we probably wouldn't still be talking about the entire issue.